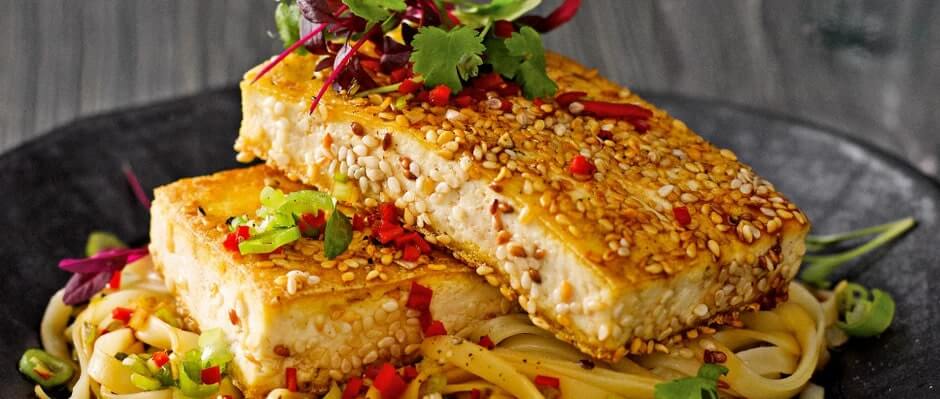 Seared Sesame Tofu with Noodle Salad
Ingredients
Firm tofu 400g pack
Sesame seeds 1 tbsp
Red chilli 1, seeded and chopped
Soy sauce 2 tbsp
Caster sugar 2 tbsp
Chinese black vinegar or rice wine vinegar 2 tbsp
Chinese noodles 200g
Sesame oil 1 tbsp
Spring onions 4, finely chopped
Method
STEP1: Wrap the tofu in heavy layers of kitchen paper then press gently to remove as much excess water as possible. Repeat a couple of times. Slice the tofu in half horizontally into 2 flat pieces. Sprinkle with the sesame seeds
STEP2: Mix the chilli with the soy, sugar, vinegar and one tablespoon of water. Cook the noodles in salted boiling water until al dente and drain.
STEP3: Fry the tofu in a splash of sesame oil until crisp and light golden.
STEP4: Heat a frying pan with the sesame oil until very hot. Sear the tofu for about 2 minutes each side or until golden and crisp. Put the noodles on two plates, top with the tofu and pour the dressing over both. Finish with the spring onions.